Shipping containers are highly durable, and make a great frame for a custom project. While there are some limitations to building with shipping containers, the experts at Custom Container Mods can turn your shipping container building idea into a reality. From roll-up doors, to rooftop turbine vents, we can help you build just about anything out of shipping containers.
7' Wide Roll-up Doors
Starting at $900
3' wide roll-up doors starting at $750

10' roll-up doors starting at $1,200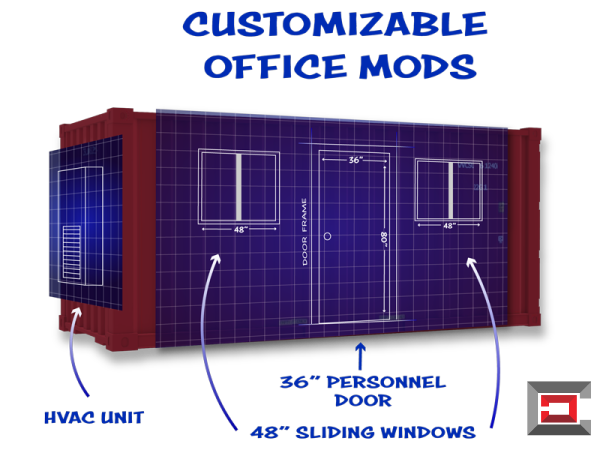 Container Offices
Customizable
Glass windows starting at $550

Window A/C units starting at $900

Add electrical, insulation, and more
Add Vents
Starting at $300
Rooftop turbines starting at $400

Whirleybird style vents available

Electrical exhaust fans available (requires electrical package)
Shipping Container Modification Services
Shipping Container Roll-up Door Installation
We offer roll-up door installation in widths of 3' to 10' wide, with 7' wide roll-up doors being the most common. You can add one or multiple roll-up doors to the side of a container to improve accessibility, or you can add a door to the bulkhead end of the shipping container to make it a "tunnel" (doors on both ends).
Contact a shipping container modification specialist at Custom Container Mods today for a quote on a modified shipping container.
Ready to customize your own shipping container?
Contact a shipping container modification specialist at Custom Container Mods today to get a quote.
We offer used and new modified shipping containers in a variety of sizes. The standard sizes are 10', 20', 40', 40' High Cube, & 45' High Cube. We also are able to provide 20' High Cube containers in some markets.
We're also able to cut down larger size containers in order to make custom lengths, such as 15' or 30' containers.  Additionally, we're able to widen containers to up 10' wide and larger by cutting it in half, and welding in additional steel.
We can customize a shipping container to any length that meets your custom container project needs. Contact a shipping container customization specialist for a quote today.